Loved By 20,000+ Aussies
Loved By 20,000+ Aussies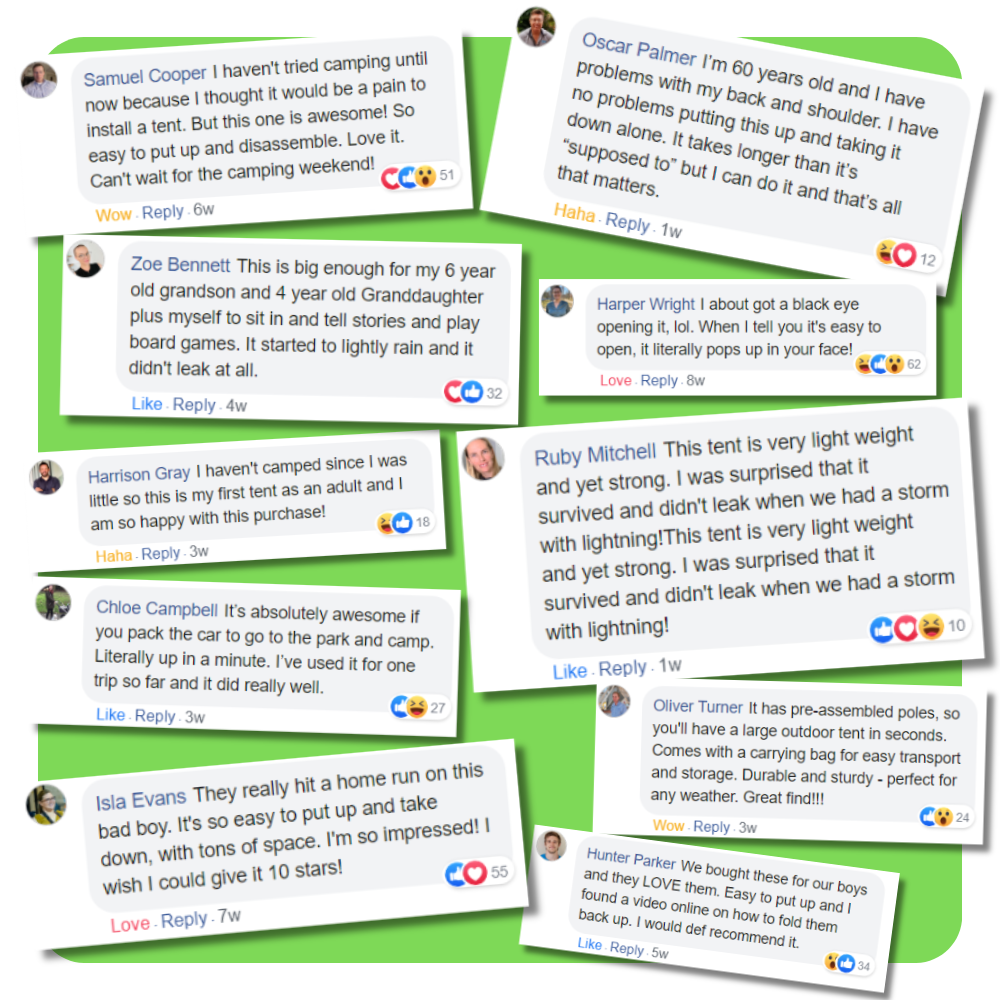 This Instant Pop Up Tent Is Perfect for…
Frequently Asked Questions
What comes in the package?
The package comes with a instant pop-up tent, tent carry bag, 4 door poles, 4 windproof ropes, and 8 tent pegs.
What's the size of the tent - after set up & after packing it in the carrying bag?
The tent measures 215 (L) x 215 (H) x 145 (W) cm when set up and has a compact size of 76 x 18 cm when packed.
How many people can the tent comfortably accommodate?
The tent is designed to comfortably accommodate up to 4 people (3 Average-Sized Adults or 2 Adults & 2 Kids).
What's the weight of the tent?
Our tent is specially designed to be super lightweight with weighing only 3.9kg.
Is it durable?
Yes, the tent is made with strong & durable 210D Polyester Oxford Fabric, which is known for being strong and tough. It's built to last through many camping trips, making it a reliable choice for your outdoor activities.

100 Day Risk Free Trial - Not satisfied? Send them back for a full refund.
100 Day Risk Free Trial

Proudly Australian Owned

20,000+ Happy Aussies
Lifetime Replacement Guarantee
This tent is probably one of the best you could buy. For the price I paid the quality is unbeatable, the material is top notch, the stitching is well made and you could tell that Outdoor toolbox really put great effort in designing the tent. Me, my wife and our daughter have enough room to sleep comfortably and that's including our camping gears and bags inside the tent. Setting up the tent for the first time by myself took less than 5 minutes and taking it down is just as easy. We have tried the tent for a couple of months before writing this review, because I want write an honest review and point out any negative issues, but so far even rainy nights was not a problem. We didn't experience any leaks during the wet season. The windows and doors are also large enough to circulate air on hot days. I used my rechargeable bike light during night time, I just hang it in the middle of the tent which is awesome at night time. My cousin actually likes my family tent and he's going to order one, but I think that I'll just surprise him and gift him for his upcoming birthday. I just want to help people to choose the right tent for their family. Would I recommend this tent to a friend or family members... absolutely! The priceless part is the quality time with my wife and daughter. I hope this review helps and don't forget to take videos and pictures with your love ones. I know we'll have great time looking at pictures and watching videos from camping trips once all my daughters are all grown ups.
I was like a child again! This 62 year old woman had no trouble putting the 3sec Outdoor tent up or down. Little time to set up with more time to enjoy the great outdoors. This tent functioned and performed exactly as advertised. I learned a good lesson: vent the tent! That provides air flow and movement adding less moisture on walls. The design of the doors is actually brilliant just for that purpose! You can vent from the top leaving the outside screen zipped up. I put a tarp underneath before setting up. That just gave extra protection for keeping the floor warm and dry. My three day camping trip was a huge success and can't wait for my next! Customer service is pretty great, too! I made a mistake on my order with two purchases rather than one. I called and was refunded immediately! Thank you, Outdoor toolbox!
Fast delivery, well packaged, easy as to put up i love it, all my family are jealous coz my tent is up an they still putting theres up. Its a fantastic size, I cant get enough of it.
Great quality product very easy to use and and spacious, very happy thank you 😊
This tent is very easy to erect. 3 min total, 1 person setup...for it to take shape. Staking it out takes more time and is always variable because my camping area was mostly rock. Had it been soil or sand...different story and much faster. Doorway and windows all have zippers that function well. Very spacious inside for 2,3 or even 4 people. Of course more people, more crowded. Packed away easily in the carrying case it came in. No issue with the 'factory fold syndrome' where things come out of a box that you can't get them back into. I didn't even carefully fold it up and it still fit in its case. It rained a bit and no leak. Gusting winds 15mph and up did not bring it down or damage it.